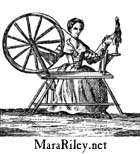 These stays were sold on Ebay. They probably date from 1740-1760.
The exterior is covered with green linen on the exterior. The interior lining is missing.
Click on thumbnails to see larger images.
Here's another pair of stays sold on Ebay. They're probably slightly later, but it's hard to date them more specifically.
| | | |
| --- | --- | --- |
| | note: laced incorrectly | |


Copyright Notice: The Author of this work retains full copyright for the written material on this page. Permission is granted to make and distribute verbatim copies of this document for non-commercial private research or educational purposes provided the copyright notice and this permission notice are preserved on all copies.
Copyright 2003, M. E. Riley